Written by Gerow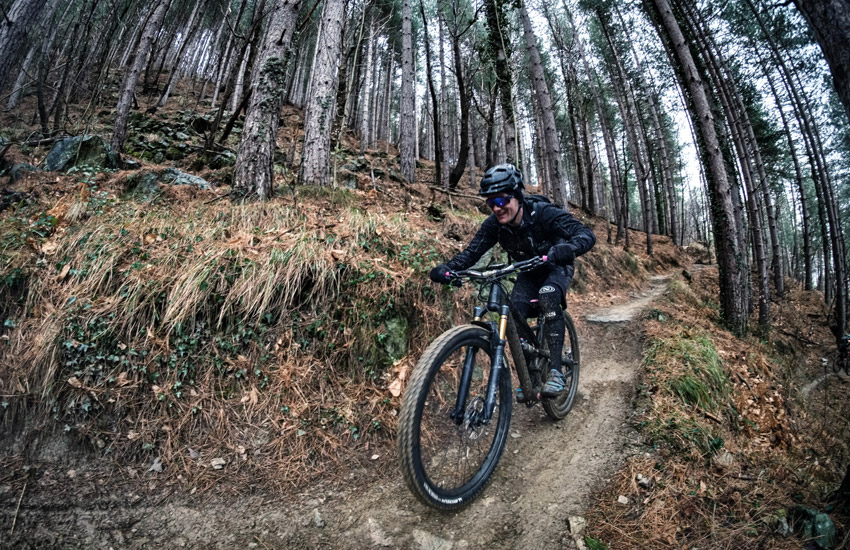 Over the past week, my partner and I rode all of the snow-free tracks in and around Finale Ligure, and I am already stoked to return and hit the higher stuff. Everything below about 700 meters was snow free in February, with mixed dry/damp conditions depending on slope and sun exposure. Some folks call Finale "the Whistler of Europe", but I'd say that disservices two of the most unique shred centers in the world. Having ridden near, but not at Whistler, I will refrain from faux-comparisons and simply say that western Canada is just as unique and beautiful as the Italian Riveria. For anyone in Europe who loves to shred steep and technical tracks, leap over entire rock-gardens in a single bound, or fly through a warm forest on rocky bench-cuts, Finale is a special spot.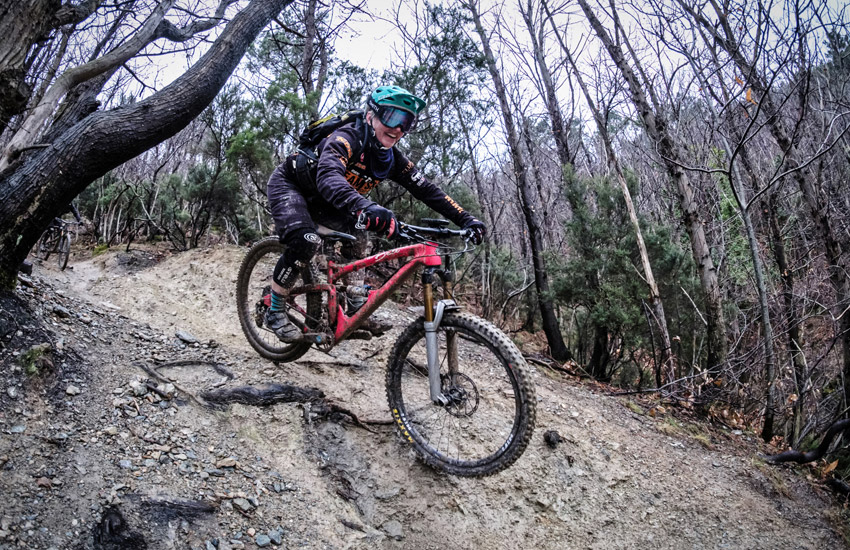 We arrived on Saturday, via regional train from Torino, found our accommodations, and peddaled directly to the nearest tracks on a hillside called Caprazoppa.
After a 20 minute climb from the center of Finale, to the village of Gorra, a series of forested trails tangle between the oaks on Finale's western flanking slope. Local builders have managed some great flow, given the frequency of stone sections on the hillside, and it made for a solid preview of the region.A well-run shuttle took care of ascents on the second day, which was welcome rest given the 9 days of riding we had scheduled. Our crew of 8 shuttle-buddies included seasoned riders who rushed to land in the van and get rolling at the base of every run. The guides were equal parts amused and supportive of our pace. I rarely shuttle, and I was impressed with everyone's emphasis on lowering their runs-per-€ ratio. It was enjoyable to dedicate a whole day to descending practice, and I can certainly see the value for anyone training or trying to up their down-game. We managed to ride daily throughout the mid-week of the trip, surveying every ridge and valley that the local builders had poured their sweat into.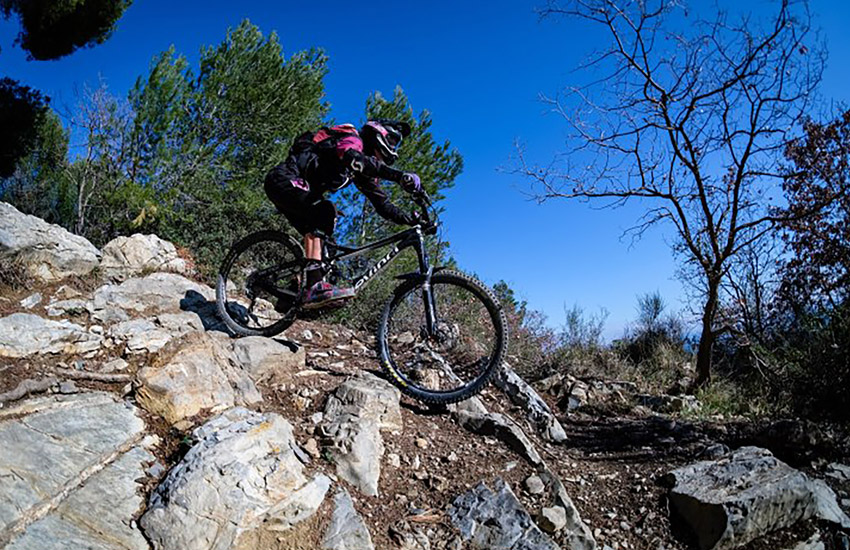 Some of the tracks I enjoyed most included Rollercoaster, Isallo Extacy Final Part, Cacciatore, Madonna Della Guardia, and Sentiero Indiano. Helpful trail maps and descriptions can be found on Trailforks.com, or Opencyclingmap.org. These are certainly not the spookiest double-diamond lines in Liguria, which allowed me to make a few solo rides without too much safety concern. A few of the descents, Madonna Sella Guardia for example, left me walking brief sections that I will save to challenge myself on the next visit. I prefer technical tracks that are built for sustained focus and speed, rather than shorter steep chutes. Fortunately, Finale builders have crafted these and many other options, all pedallable from the beach. Whether you bring an xc hardtail to train your heart rate or a DH down-only whip, there are seemingly endless fun ways to put a ride together in the Ligurian Alps.
Finale appears to embrace mountain biking with a welcoming spirit and to appreciate the added tourism revenue riders bring. Many of the shops and restaurants cater to cyclists in one way or another, and a nearly equal ratio of bike shops to bars keeps everyone rolling throughout their stay. Several of the region's shuttles end at The Ultimate Bikeshop which offers a self-service bike wash, pump track, and all the various bits and bobs you may need for the following day. The city is split into two sections; a postcard beachfront strip that closely resembles the hundreds of villages on either side of it, and a medieval village known as Finalborgo at the confluence of the Torrente Porra and Torrente Aquila rivers.
Regarding proper places to end a ride, I am obliged to share the beauty that is Sir Arthur Craft Beer Pub, in downtown Finale. The bar was closed when we first arrived, and like many businesses on the sleepy winter-coast, it seemed they may remain shuttered until tourists reemerged in early spring. Fortunately for us, the pub opened on Thursday with a list of suds and grub that I have not seen since living in Oregon. Their artisan beer menu included 2-3 Italian IPA's, and a proper pilsner to help kick off the "biggest fish" stories of the day. Good beer was enough to ensure my patronage, but after trying their veggie tacos, nachos, and burritos, I began to think about the place midway through the next few rides. I wonder if they deliver to Torino?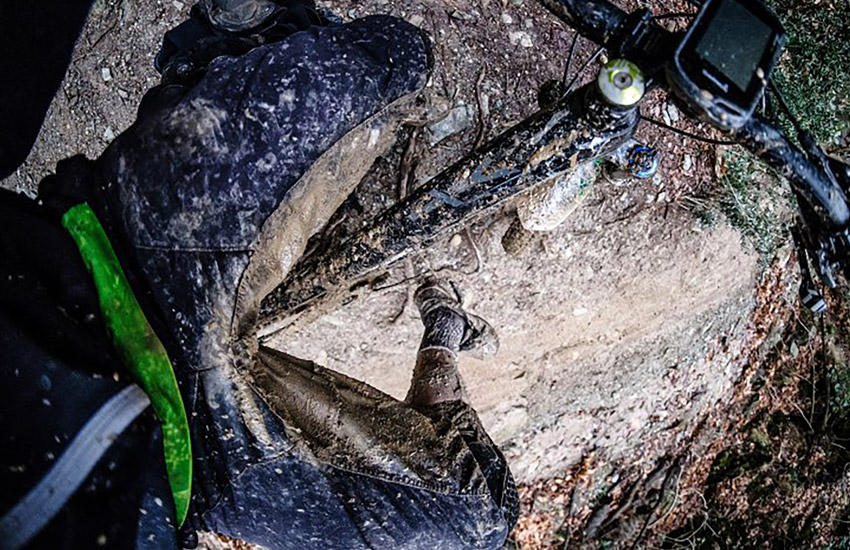 For the last two days of our Ligurian visit, we shuttled with friends who traveled to the region for their weekend. Heavy rains rolled in Friday evening, and continued through all of Saturday, making for some solid slippery-rock practice. I really enjoyed remembering how to ride without traction, and shredding with new friends, making the slick mess one of my favorite days of our weeklong stay. On Sunday most of us split into cars and trains to move the party to Diano Marino where we shuttled in the warm Sunday sunshine. The Diano tracks were a bit rockier and shorter and made for a fun shift in trail challenges. I particularly enjoyed "Maiali", a trail named after the pigs that live along an adjacent road climb.
On the short list of "best places to ride a mountain bike", I put Finale near the top. With a spectrum of well-maintained trails that end near the beautiful beachside village, the location makes for a magical weekend or weeklong stay. The overall experience of the Ligurian region is not simply about its blasting natural tracks, but includes the welcoming locals, wondering views, aromatic forests, and a unique intentional shift toward outdoor enthusiasts throughout. Finale Ligure is well equipped to fill your vacation journal with endearing stories. The trip is just a week in the past, and I am ready to return.
Thanks, Finale!
All photos for this article were shot by the talented folks at scimmianatas.com