Written by Gerow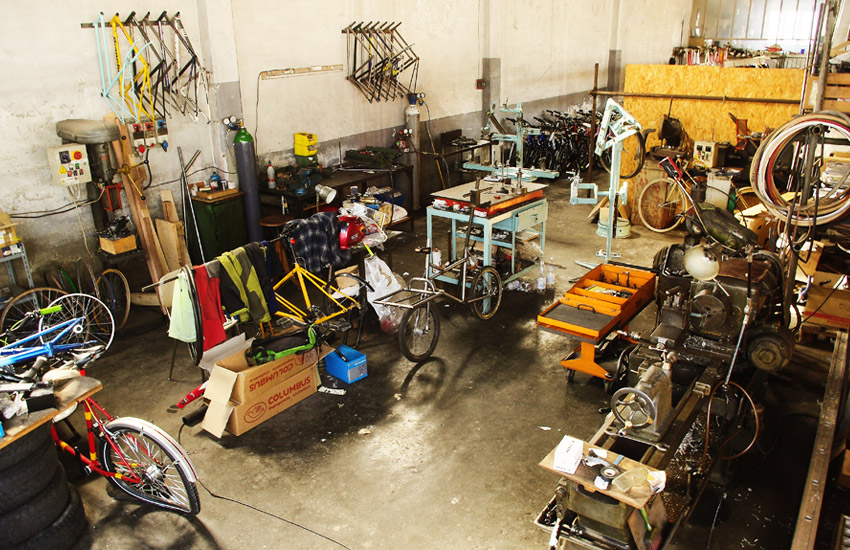 Below the south-eastern slope of the Torinese hills, tucked near the end his favorite local mountain-bike trails, I found Luca Groucho slowly and methodically building Cicli Groucho's new bicycle frame studio. Quiet and relaxed behind his thick winter beard and dark brown hair, Luca expresses himself with a gentle demeanor. He and his shop appeared with a clear purpose and focus toward creating great things. As I interviewed Luca the corner wood stove cracked a lovely harmony and lit his hand constructed workspace with a cozy glow.
Rolling through his youth on two BMX bikes that his father put together for him, Luca's love for two-wheeled fun began long before he learned to wield a welding torch. Between the ages of 16 and 20, he took an interest in racing cross-country mountain bikes and trained regularly for events near his north Italian home. Between Colle della Maddalena and La Superga over 100k of single track lie like ribbons in the forest, built by and for riders like Luca to train themselves on. Some of Lucas favorite Italian trails are in those hills, and he makes time to enjoy them often.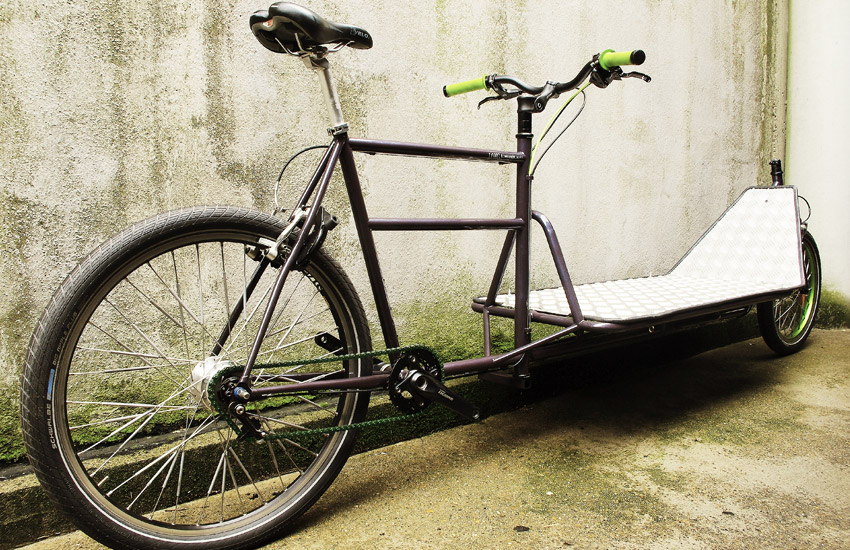 With supportive Torinese parents who taught him the value of taking things apart and learning how they work, Luca found it quite natural to learn to weld his own frames. As his youthful interest in cycling grew, so did his artistic metalworking skills. In 2008 he cut and welded tubes for his own cargo bike, that he would use to run errands through his hometown streets of Torino.
In 2010 Luca attended a brief class focusing on the common challenges in bicycle frame building, taught by legendary Italian frame builder Dario Pegoretti. The four-day event was organized by several dedicated frame builders from Verona. To everyone's elated benefit, they learned a great deal from the veteran artisan. Luca mentioned that the class with Pegoretti helped him to clarify his process, and improve as a builder.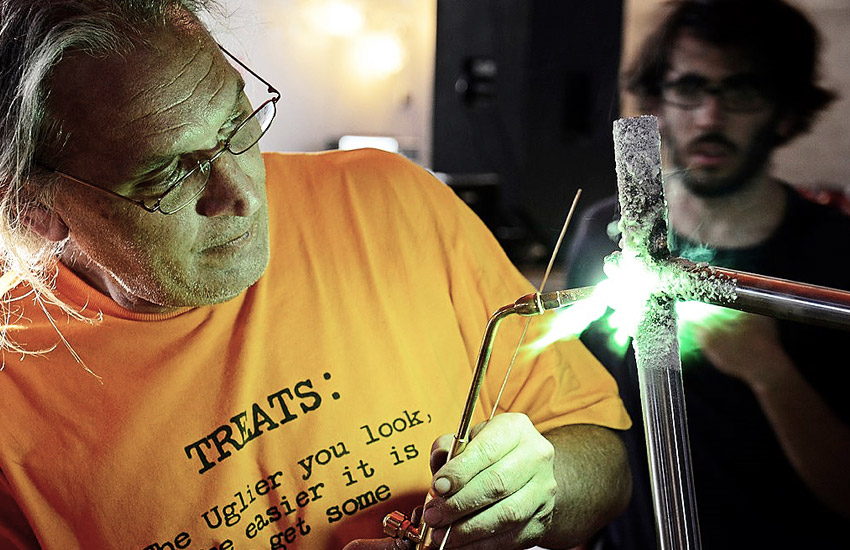 Armed with invaluable information and a reasonable amount of practice, Luca purchased all of the frame building tools he would need to officially start Cicli Groucho. He was able to collect all of the instruments from one elderly Torinese frame builder but had to modify many of them to meet modern frame standards and component sizes. As bike component companies continue to innovate and change frame builders will adapt their tools and skills so they can build the modern frames their clients desire.
Throughout his cross-country mountain bike career, Luca also traveled around Europe competing in bike-polo tournaments. His polo team was quite successful, as were the frames he built for them. Luca found a frame geometry that he felt made a perfect polo bike and started building frames for riders from various EU teams. Polo proved a fantastic testing environment for the frames as the sport demands a lot from the bikes, and it's not uncommon for parts or frames to break during a match. He was able to sponsor a French polo team and one of their riders went on to become the world champion of bike polo, at the annual competition held in Kentucky, Tennessee USA. After polo and cross country Luca tried his hand at enduro racing, including the locally famous Super Enduro Series. Now, at 28 years of age, he is no longer racing but focusing on building frames and enjoying riding trails with friends in the nearby mountains.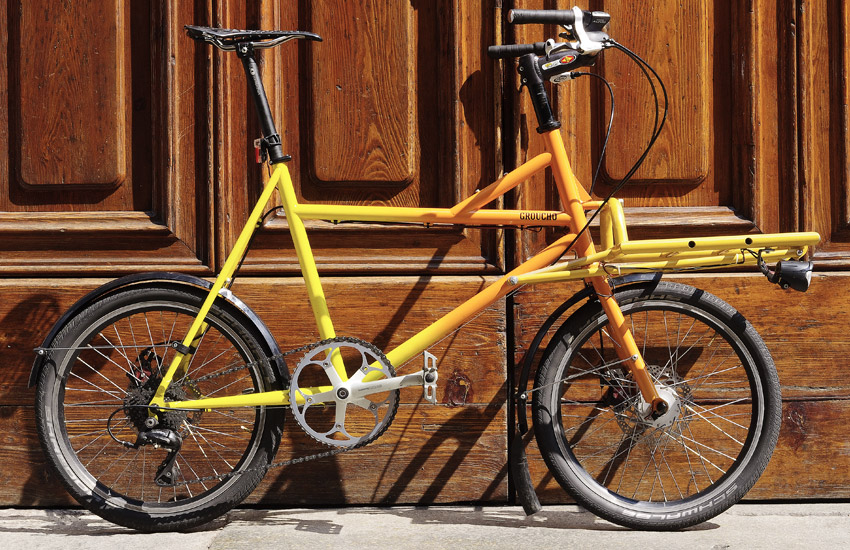 Since his first crude cargo bike, Luca has honed his process, having built numerous polo bikes, tall-bikes, road bikes, and mountain bike frames. While he can build any type of frame his customers desire, Luca is steering the business toward his own personal love of mountain bikes. He is focusing on building a variety of hardtail frames, from trail bikes, all-mountain, and enduro machines. Artisanal builders like Luca are creating something special for cycling enthusiasts. The bikes they build are more than a tool for fun, they are works of art. Frames can be crafted around the specific needs and desires of each unique customer to give discerning cyclist the bike of their dreams. The end product encompasses elements of art, function, tradition, and innovation.
When not working away in his fire-lit hillside shop Luca can be found rebuilding suspension or other components at Bike Lab Torino. Specializing in suspension and hydraulic components, Bike Lab is a shop that caters Enduro and downhill clients, though they can work on all types of bikes. Luca enjoys repairing and building bikes and can service any suspension component you happen to have (www.bikelabtorino.com).
In addition to creating artful fun-machines for clients and rebuilding components, Luca enjoys camping in the mountains near Val Mira (Cuneo). Some of his favorite mountain bike trails cross and climb through the valley, and there are often more trails than people present. If you are looking for a new bicycle frame, shoot Luca a message on Facebook and he will get back to you as soon as he gets home from the hills.
Contact at: Facebook/groucho